Dashboard FAQ
We have listed few common questions that you may need answers to.
How can I rename Dashboard?
On the Dashboard page, click the Tools

menu and select Edit Dashboard option. You can rename the dashboard the name, edit the description of the dashboard.
How can I save Dashboard as a template?
OR
How can I duplicate dashboards?
On the Dashboard page, click the Tools

menu and select Create Template from this Dashboard option. Provide a name and description and the dashboard is available as a template for you to use. This way you can duplicate dashboards and then edit them as per your need.
How to tag a Dashboard?
Click the Tag selector on the dashboard page. The tag tree displays recently used tags, favorite tags, and all tags in your account. Select the tag to be applied to the dashboard and click outside the tag selector. The dashboard gets tagged.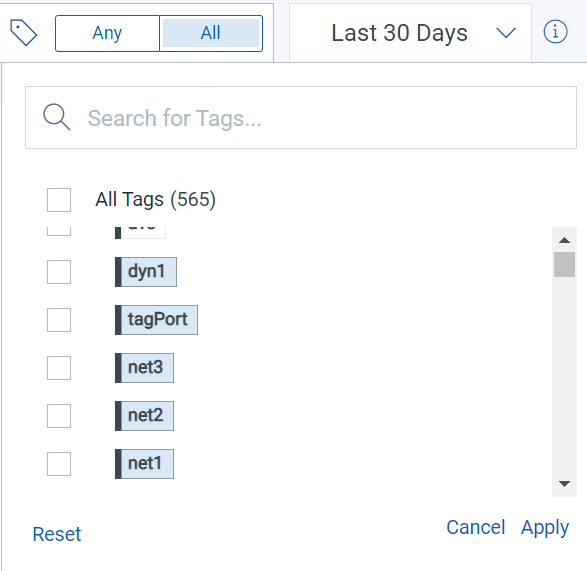 How to switch between Dashboards?
You can switch between multiple dashboards that are available in your account. Click the down arrow button next to dashboard name.
Can I apply time filter for Dashboards?
You can choose the time filter for the data to be populated in the dashboard widgets. Click the time filter drop down displayed below the Dashboard name on the dashboard page. By default, the time filter is set to Last 30 Days. You could choose options from the drop-down or define a specific data range too.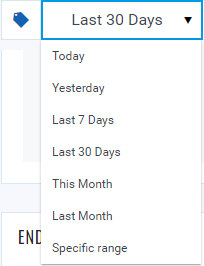 Why is Time filter not applicable to some widgets in the Dashboard?
If the widgets in the dashboard have widget-level time filter configured, the widget-level time filter takes precedence over dashboard-level time filter. In such cases, the dashboard-level time filter is not applicable to widgets. For information on how to configure widget-level time filter, refer to Configure Widget-level Time Filter.