Widgets FAQ
How to switch from one widget type to another?
Click the Widget menu and select Edit from the menu options. Click the required widget type and click Save. Depending on the widget type you select, you may have to provide the required information.
How to save a widget as a template?
OR
How can I duplicate widgets?
Click the Widget menu and select Create Template from this Widget option. Provide a name and description for the widget template you want to create and click Save. The widget template is saved and available in the User-defined widgets tab of the widget builder.  
To view the template, click  the Add Widget

button on the dashboard, select the module/application from where the widget data was picked and then click User-defined Widgets tab. This way you can duplicate widgets and then edit them as per your need.
How to change widget size?
Resize any widget vertically or horizontally, drag & drop widgets on the page to change the layout.
1) Click the Tools icon on your dashboard.
2) Select Edit Dashboard Layout.
3) Adjust the width for any widget or drag the widget to a new location.
4) Click OK to save your changes.
Want to add table in widgets?
You have multiple ways to configure a table in a widget to help you visualize your assets and their security. Create tables with multiple columns sort by any column you like or set the sort order (ascending or descending)  
Can I setup trending data?
Yes, you can configure dashboard count widgets to display trend data. Enable the Collect trend data option in the dynamic widget wizard. Once enabled, the widget trend data is collected daily and stored for up to 90 days. This is used to plot a line graph in the count widget.
Can I configure Time Filter applicable only for a widget?
Yes, you can configure time filter at a widget-level when you create a new widget or edit an existing widget. Select the Enable Widget Time Selector check box and select the required time filter from the drop-down. Once saved, the time filter is applicable for the widget.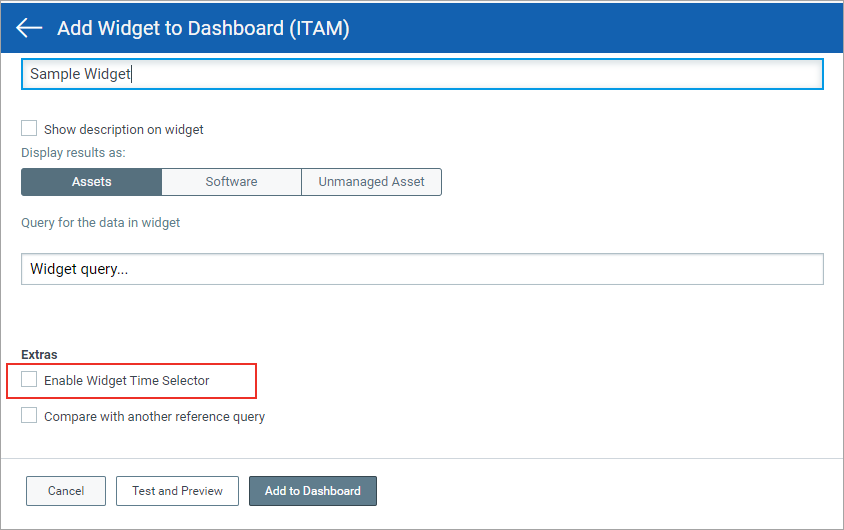 Can I add filters on to my widget?
Yes, you can add advanced filters for Table, Column, and Pie widget types. You can use one or more tokens to filter data displayed on a widget. If you add multiple token filters, the latest filter gets the precedence.
Can I zoom in to view details on a Count widget card?
Yes for a Count widget type, you can simply click

on the widget card to expand and view the trend lines clearly.