Real-Time Threat Indicators
Qualys has integrated Real-time Threat Indicators (RTI) to deduce Vulnerability Intelligence with the Qualys Cloud Platform. Qualys gathered many of the RTIs for years now for internal use to prioritize vulnerability signature development and is now exposing the same for customers.
What are Real-time Threat Indicators (RTI) ?
Real-time Threat Indicators are data points collected per vulnerability. It is accurate, timely and actionable information aggregated from multiple reliable data sources to prioritize and shrink flood of security alerts. Current Real-time Threat Indicators are:
Potential Impact
Active Threats
What are the sources for Real-time Threat Indicators?
Qualys gathers RTI information from its own research and from multiple external sources. Qualys has worldwide team of engineers who constantly monitor and track RTI data points. This includes information on attacks, exploits and exploits kits. Qualys engineers also analyze this information to determine RTI attributes like lateral movement. Qualys has partnerships with companies like CORE Security, Immunity Inc, TrendMicro and others from which information is obtained and correlated.
How can Real-Time Threat Indicators help me?
Real-time Threat Indicators can be used in multiple ways. They can be used standalone or can be used as filters that can be cascaded with each other. For example if Bob has 10,000 QIDs detected in his organization he can prioritize his efforts by cascading multiple RTIs  and provide workarounds or alternate defenses since patches are not available, but the vulnerabilities are actively attacked, have a high lateral movement potential and the exploit is easy.
Prioritization using 4 example Real-time Threat Indicators Show me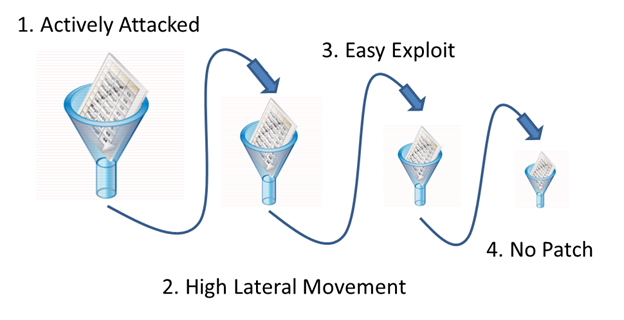 Will Qualys add more Real-time Threat Indicators?
Absolutely and we are in the process of creating some more Real-time Threat Indicators now.