Customer and KB Severity Levels
You can identify the custom severity that you configure for a QID. For a particular QID, you can view both severity levels: one set by you and other by Qualys.
For example, consider a QID with Qualys severity as 1 and custom severity as 3. The severity bar indicates the right arrow at 1. The right arrow implies that Qualys severity level is 1, but you have increased the severity for this QID to 3.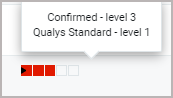 Similarly, if you reduce the severity of a QID lower than the severity set by Qualys, the Severity bar shows the left arrow.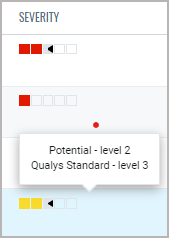 Note: The Group by Vulnerability option will list Vulnerabilities with the updated level if you change the severity. The Vulnerability count will display the updated severity after an asset scan.

Similarly, if Qualys changes severity, you will be able to see that change in the Vulnerability Count after an asset scan.